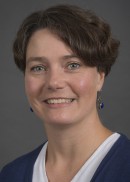 Director
Email: christine-petersen@uiowa.edu
Phone: (319) 384-1579



Dr. Christine Petersen graduated with her DVM from Cornell University in 1998, and completed her PhD in Immunology and Infectious Diseases at Harvard School of Public Health in 2004. With the first seeds planted as a veterinary student doing a summer research project on African Trypanosomiasis in Nairobi, Kenya, Dr. Petersen's scientific career has focused on the prevention of zoonotic diseases, which primarily focuses on leishmaniasis.

Dr. Petersen is now director of the Center for Emerging Infectious Diseases, a "One Health" collaboration between the Iowa Department of Public Health and regents colleges of Medicine, Public Health (UIowa) and Veterinary Medicine (ISU) . As an Associate Professor at University of Iowa, College of Public Health, she also teaches joint veterinary and graduate coursework and conducts outreach related to the diagnosis, treatment, and prevention of zoonotic diseases within companion animal and human populations. Additionally, she collaborates with the Iowa State University animal shelter medicine program, populations ripe for spread of zoonotic infectious diseases. Her interest in 'One Health' was started while a veterinary student by a cadre of veterinarians working in global developing areas.