2021 Keynote Addresses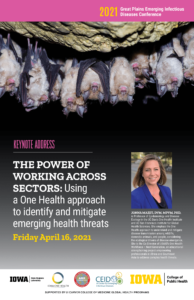 Dr. Jonna Mazet
DVM, MPVM, PhD
Professor of Epidemiology and Disease Ecology in the UC Davis One Health Institute and UC San Francisco Institute for Global Health Sciences
Title: The power of working across sectors: Using a One Health approach to identify and mitigate emerging health threats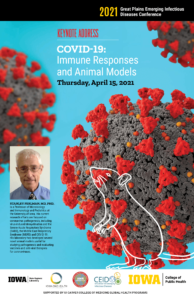 Dr. Stanley Perlman
Professor of Microbiology and Immunology, and of Pediatrics
Title: COVID-19: Immune Responses and Animal Models
2020 Keynote Addresses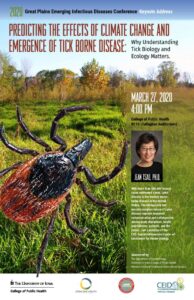 Dr. Jean Tsao
Associate Professor in the College of Agriculture and Natural Resources, Michigan State University, Department of Fisheries and Wildlife
Title: Predicting the Effects of Climate Change and Emergence of Ticks and Tick Borne Disease: Why Understanding Tick Biology and Ecology Matters
2019 Keynote Addresses
Dr. Patrick McDermott
Director of the National Antimicrobial Resistance Monitoring System (NARMS)
Title: The National Antimicrobial Resistance Monitoring System: Measuring and Monitoring Resistance Using Genomics
Dr. Megin Nichols
Enteric Zoonoses Activity Lead at the Centers for Disease Control and Prevention
Title: Antimicrobial Resistant Zoonotic Disease Outbreaks: A Case For One Health Data Sharing
2018 Keynote Addresses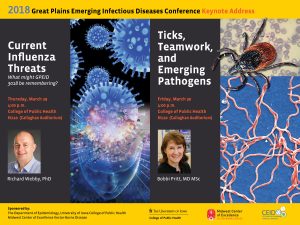 Dr. Richard Webby
Member of the Department of Infectious Diseases at St Jude Children's Research Hospital
Title: Current Influenza Threats: What might GPEID 3018 be remembering?
Dr. Bobbi Pritt
Professor of Laboratory Medicine and Pathology at the Mayo Clinic
Title: Ticks, Teamwork, and Emerging Pathogens
2017 Keynote Address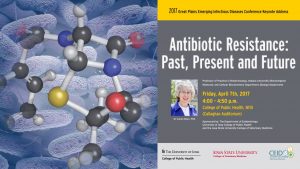 Dr. Karen Bush
Professor of Practice in Biotechnology
Title: Antibiotic Resistance: Past, Present, and Future
2016 Keynote Address
Dr. David O'Connor, PhD
Professor of Pathology and Laboratory Medicine
University of Wisconsin's School of Medicine and Public Health
Title: From AIDS to ZIKV (Zika Virus)
2015 Keynote Address
Dr. Christopher N. Mores, ScD
Associate Professor, Department of Pathobiological Science
Louisiana State University's School Of Veterinary Medicine
Title: Fighting Ebola in Sierra Leone: Isolation, Treatment, and Case Ascertainment
2014 Keynote Address
View the recording of this keynote address here.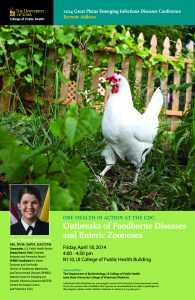 Casey Barton Behravesh, MS, DVM, DrPH, DACVPM
Commander, U.S. Public Health Service
Deputy Branch Chief, Outbreak Response and Prevention Branch
DFWED Coordinator for Enteric Zoonoses and One Health
Division of Foodborne, Waterborne, and Environmental Diseases (DFWED),
National Center for Emerging and Zoonotic Diseases (NCZEID).
Centers for Disease Control and Prevention (CDC)
Title: One Health in Action and the CDC: Outbreaks of Foodborne Diseases and Enteric Zoonoses
2013 Keynote Address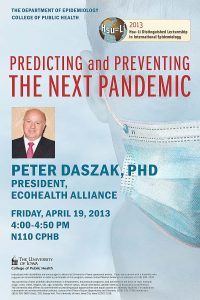 Peter Daszak, PhD
President,
EcoHealth Alliance
Title: Predicting and Preventing the Next Pandemic
2012 Keynote Address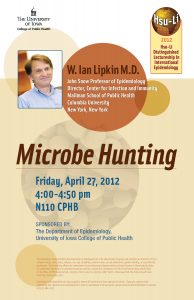 W. Ian Lipkin, MD
John Snow Professor of Epidemiology
Director, Center for Infection and Immunity
Mailman School of Public Health
Columbia University
Title: Microbe Hunting