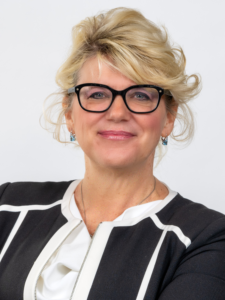 Dr. Jennifer Blackhurst, Ph.D
Dr. Jennifer Blackhurst is the Associate Dean for Graduate Programs and the Leonard A. Hadley Professor of Business Analytics in Tippie College of Business. In her role as Associate Dean, she leads the efforts of the
development and innovation of graduate education programs in the Tippie College. Prior to this role, she has served in a number of administrative roles including the Director of the Kathleen Dore – Henry B. Tippie Women's Leadership Program, Chair of the MBA Curriculum Committee, Chair of the Elected Faculty Council (EFC), as well as roles serving her profession, the university and her department.
Blackhurst received her doctorate in Industrial Engineering from the University of Iowa in 2002. Her research is focused in the areas of supply chain risk and disruption management; supplier assessment and selection; and supply chain design and coordination. Blackhurst has also been actively involved in the national and international supply chain
management discipline by serving on a variety of editorial review boards. She is associate editor for Decision Sciences Journal, Senior Editor for Journal of Business Logistics and she serves on the editorial review boards for Journal of Operations Management, Journal of Business Logistics, Journal of Supply Chain Management, and IEEE Transactions on Engineering Management. She has served on the Decision Sciences Board of Directors in a number of roles. In 2013 and again in 2017, Blackhurst was recognized as Outstanding Associate Editor for Decision Sciences Journal.
Dr. Blackhurst's address titled 
"Creating a Vaccine Distribution Supply Chain: Coordination of Efforts to Save Lives" is free and open to the public. You can watch a recording of the keynote address HERE